28 Jun 2022
by panda
Stay Ahead in The Branding Game With SEO Agency in Melbourne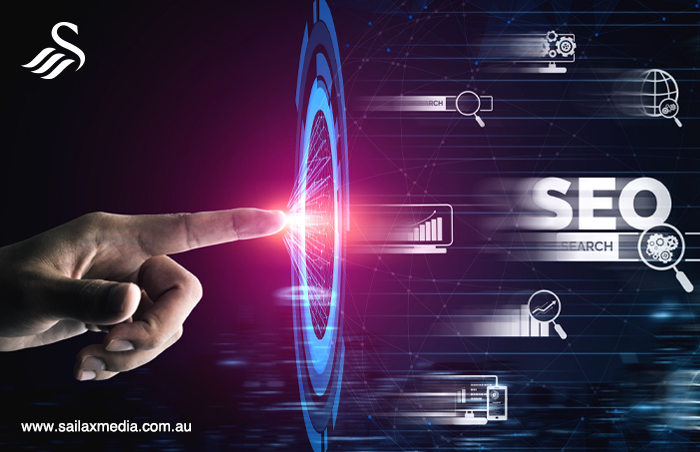 Is your brand or website not found online? If this is your problem due to which your business is not growing then let's face it you need a great team of SEO experts. Being the best SEO agency in Melbourne we know how to spread brand awareness, make your brand popular, be result-oriented and grab a hold of the local and global market. The most obvious reason you landed on reading something like this is for the following reasons:
Your website is lost in the virtual world.
Your web traffic is witnessing a downfall consistently.
Your incoming class and leads have diminished.
You wish to create brand awareness targeting the online potential crowd.
If you are wondering how we can assume so much, then please note there is a reason Sailax is the best in Melbourne as we speak of SEO.
There are various services that we offer, but before knowing about any of the services, one must be very clear about the reason why one must sign up for SEO experts. Hence, let's walk through what SEO means and a list of benefits of partnering with SEO experts.
An introduction to SEO:
SEO stands for Search engine optimisation. It's a technical process with the help of which one can improve the results a website provides. It improves the rank when users search for specific phrases and words.
Benefits of partnering with Melbourne SEO expert agency:
1. Boost the traffic
One of the best benefits and the biggest reasons people choose expert SEO services is to increase the flow of traffic on their website. It's an inbound way of getting access to your potential consumers. Other than using an outbound way of promoting your brand like cold emails, spam, and interruptive ads, which get annoying to the consumers, an inbound way to get customers' attention works like magic. The SEO inbound ways to spread your brand awareness are consumer-centric. It involves creating helpful content for people and directing the consumers to the real deal that you are trying to sell.
For instance: Writing and promising a blog on healthy skin and having the blog send the consumers to your website that sells skincare products.
2. Get more clicks through PPC and other ads
When a website ranks on Google due to great SEO, it doesn't need additional ad expenditure to rank further. Consumers have trusted Google results for many years now. Even the consumers are getting smart and they know which one is a paid product rank and which one is ranking organically. Hence, the majority of consumers trust the organic search result pages which demands your SEO game to be expert-led
This is exactly where an expert agency like Sailax the best in Melbourne, comes into the picture. You can easily ace this goal with your brand by partnering with an expert SEO team.
Did you know?
Even though PPC ads easily appear on top but more than 70% of the audience clicks on the organic results only.
3. SEO with a mix of PR
No matter how diverse and disconnected these two terms might look, but PR is connected well with SEO. The experts of SEO use them together to maximise, the results that you dream of as you think of your brand's success. When someone is working on the SEO of any brand, PR is involved as essential part of the SEO strategy. It's the trait of professionals in SEO as they can identify the opportunity to place you or your brand with a reputed publication, writer or artist and make it relevant with matter that is already trusted enough by the consumers.
This is done by link-building with related content and brands. It helps your brand to move ahead of the competition in very subtle ways.
After knowing the benefits of partnering with an SEO expert agency now, we hope you have enough reason to give it a thought and paint a picture of how connecting with the best SEO agency in Melbourne can help you flourish. Let's walk through some of the amazing strategies that you will unlock as your partner with the Sailax team.
Website assessment is the first step of our SEO team. All the factors observed and evaluated the impact the existing rank of your website.
After a thorough assessment, keyword research is done. Then ongoing optimization and testing are implemented. There are consistent checks and changes made as per the professional outlook.
Later, after observing this for a few weeks, a report is prepared and analysis is done by our team. This is done after a regular check of the key metrics that can help the site rank better.
Today, SEO is a mandatory part of you are looking for a digital marketing strategy. Hence, as you look to partner with any SEO agency do make sure the SEO is one of the top-notch services they provide. As you consider Sailax Media the best in Melbourne, you can be assured with SEO as we offer nothing less than the best. You can get all the related services that ensure to inculcate only the best SEO practices. Connect with Sailax Media today and see your brand grow!