16 Feb 2022
by panda
Elevate Your Business's Existence With Videos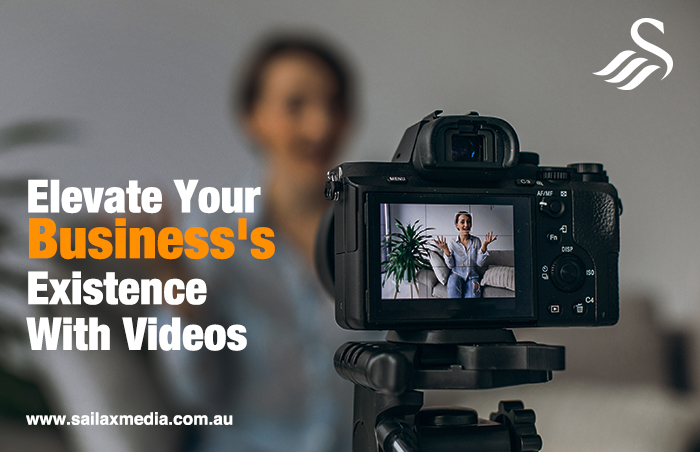 Indeed, it is true that words that are presented with visuals and expressions are accepted better in conversations. Then why would you lack this feature in your business? If your business has the potential to win a million hearts, then why are you missing out on the chance of enhancing its way of representation?
Sharing video clips about your business with the combination of rightly suited words will increase the volume of reach your business has been getting until now.
Your business's existence is already being counted by its official website and social media pages (if made). However, when it comes to giving voice to your products, it is about creating and publishing videos. So, when you are looking for video production services in Melbourne your search will end here with us at Sailax Media.
Before making you aware of how we at Sailax Media, add value to your business, let's know;
Why is Video Production Essential?
The process of planning, executing, and publishing a clip of visuals with words coming and/or running in the background, is known as video production.
Paint a picture like this, your business has some information regarding the product or services it provides. How do you believe that your business can grab the attention of millions of new audiences?
You have to be creative it is one essential point, and for that, you can either share posts or share videos.
Sharing creative posts is one good option, as we at Sailax Media, your social media marketing agency provide you that service too.
However, the main motive behind you choosing video production services in Melbourne or a digital marketing agency is to make your brand cover the grounds worldwide.
So, when it comes to having an enlarged view to share your business globally, opting for video production services in Melbourne should be your aim.
We, at Sailax Media, your video production services provider in Melbourne provide you with not just creative video ideas, but our step-by-step guide ensures that the videos representing your business are made with a clear vision.
Eight simple steps in Video Production
Pre-Production Consultation
Script Writing
Storyboard
Voice-Over Recording
Graphics and Animation
Filming Arrangement
Filming
Editing
It seems simple when someone says "video production". However, there is a whole step-by-step process of video production.
There are three categories in which the process of video production is divided.
First: Pre-Production
The first category is pre-production. Here lies the survey and creating a layout of how things will unfold with each step.
This process attains three further steps:
Pre-Production Consultation:
In pre-production consultation, the various factors to study are; the business, target audience, market research, and competitors.
Scripting:
This is where the rough drafts of the planned layout are created and then seek permission from the business owner if the script is appropriate and good to go.
Storyboard:
This is where the shorts that have to be included in the final visual are planned.
Second: Production
The second step is where the important factors lie. This step has four further sub-working stations:
Voice-Over Recording:
Once the planning is done, comes the part of recording the voices which suit the best to the expressions and motive behind creating a video.
Graphics And Animation:
To ensure your video is best explained and created uniquely to attract maximum audience across the globe.
Filming Arrangements:
Not every video can be done by graphics and animation, some require actual filming. And this is the point where all the arrangements seem to have a flawless result.
Filming:
The last part of the production is filming. The process of actually having the whole set of cameras and spokespersons, and the whole crew to shoot the final video.
Third: Post-Production
The last part in the process of video production is;
Editing:
Finishing the whole video production with editing and cutting out the unnecessary items to have one final result. Which suits each aspect and is ready to share on various platforms.
CONCLUSION: All the above-mentioned points are the steps we do at Sailax Media, in the category of video production services provided in Melbourne.