14 Mar 2022
by panda
5 Benefits of Influencer Marketing to Grow Your Business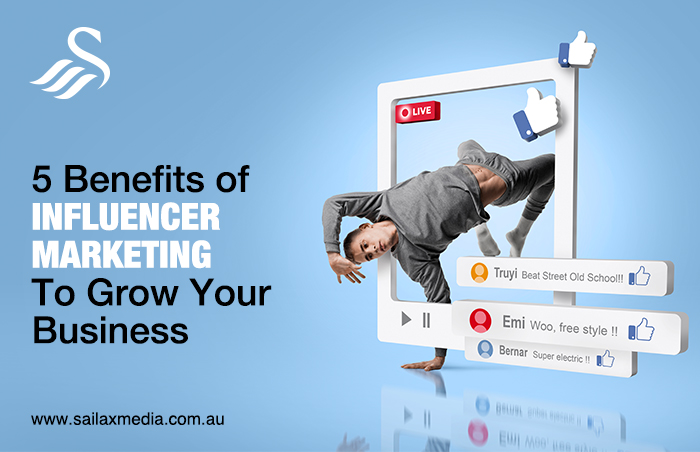 How many times have you come across a video of a person endorsing a brand, product, or service? While scrolling through various social media platforms, you've quite often seen videos or images that are attractive enough to capture your attention.
After seeing such posts shared on social networking sites you surely understand who these people are, the ones who are endorsing stuff. Yes, you got it right, that's an influencer. However, have you given it a thought that how do brands connect with those influencers and why do brands need influencers?
Well, your questions are going to be answered in the following words. When it comes to knowing how brands connect with social media influencers is via an Influencer Marketing Agency in Melbourne or any place nearby.
An influencer marketing agency already has connections with influencers and they know which influencer will do justice to what brand. However,…
Why do brands opt for Influencer Marketing?
When it comes to promoting a brand digitally, you can never trust anyone blindly, until and unless it's an influencer marketing agency in Melbourne or across the world. And when it comes to making your brand gain the attention of a wider audience, the best option is influencer marketing.
This is because influencers already hold a well-built stage of trusted audiences.
Influencers connect products to the audience
With unique creativity, an influencer holds the power of gaining the attention of an audience either of millennial age or Gen-Z. Thanks to social connectivity an influencer brings out the best of its creativity to endorse a brand via building a bridge of connecting the dots of the product to the required audience. And in this process, an influencer marketing agency looks out for the most suitable influencers.
Provide brand visibility
An influencer already holds a well-built stage of audience and followers. So, when a brand opts for an influencer marketing agency, they ensure to take the advantage of the already built medium. By collaborating with influencers who already have established connectivity, a brand ensures wider visibility and reach. Every influencer has some hundred-thousand followers, and that helps in making a brand visible to billions of people.
Influencers Sets Trends
As stated above, influencers have hundred-thousand followers, so whatever they post or share on their social media wall, it becomes a trend. For a brand to become highly recognized it is essential to make their offered product or service a part of the trends. The trends that are set by an influencer are further followed by billions of people worldwide, creating a wider reach.
Influencers help in building trust
Every day, thousands of brands get launched, however, people don't trust every other brand unless and until it is verified or highly recognized by a million people. To make a brand genuine it needs trust and authenticity. By promoting a brand with the help of influencers, this tactic gives a sense of trust which leads the audience to trust a brand.
Drive traffic and lead generation
The last and most important point of taking advantage of influencer marketing is, it returns not only with the sense of authority or driving organic traffic to the original website of a brand. However, the way an influencer targets the audience, the attention somewhere leads them to become your potential customer, meaning them to be a positive sign of lead generation.
CONCLUSION: From providing a platform to gaining visibility to setting trends, to attaining trust, and lastly to driving traffic for lead generation. Influencer marketing is one of the most trusted, and long term beneficial marketing tactics in this age of the digital world. To ensure your brand becomes a trend too, connect with Sailax Media today, your influencer marketing agency in Melbourne.